Eco Friendly Rash Guards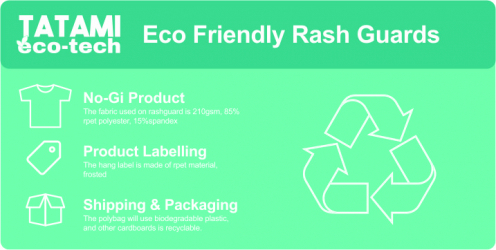 As part of an increased commitment to helping the environment and creating more sustainable products, we bring you the Tatami Fightwear Eco Friendly No Gi Range
This means that these products are made using a material that consists of a high percentage of RPET Filament Yarns. This Yarn is GRS (Global Recycle Standard) approved.
What is RPET?
Recycled Pet Fabric (RPET) is a new type of green, eco-friendly fabric made from yarn of recycled PET bottles. A ton of regenerated RPET yarn equals to 67,000 plastic bottles, a reduction of 4.2 tonnes of C02, a saving of 0.0364 tonnes of petroleum or a saving of 6.2 tonnes of water. It goes without saying that the increased use of RPET could have a great impact on the environment.
The raw RPET filament yarn has a wide variety of uses and can be made into things such as sport clothing material, which has inspired our design and creation of the Balance Rash Guard. This rash guard is made from 85% RPET Polyester and 15% Spandex, weighing in at 210 GSM. This allows the rash guard to be pulled and stressed, as expected in Jiu Jitsu, while still being durable, as well as maximise fit and comfort.
As well as the product itself, we also package the item in a polybag using biodegradable plastic.